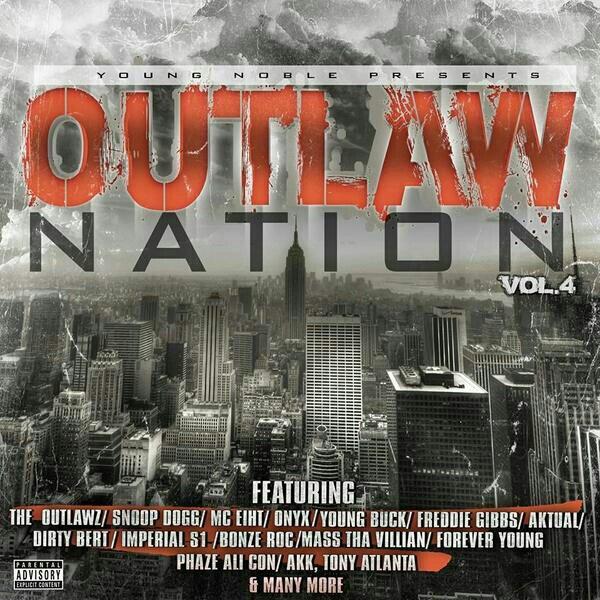 One of the most influential groups of all times is back with a numerous amount of top MC's who deliver straight hardcore lyrics that will not only keep you intrigue, but will keep your head bopping to the beat. Yes we are speaking about the immortal "OUTLAWZ". With their newest project "Outlaw Nation vol.4" scheduled to drop September 13th 2014. Appearing on the album are Snoop Dogg, MC Eiht, Young Buck, Onyx, Freddie Gibbs, Aktual, Dirty Bert, Imperial S1, Bonze Roc, Mass Tha Villian, Forever Young, Phaze Ali Con, Akk, Tony Atlanta, and more. So stay plugged in and be ready for that as we would say "GOT DAT HEAT" music dropping September 13th from the "OUTLAWZ".
We are pleased to introduce to you the phenomonal DC born rap artist Footz Little. Not only does he rap he is a writer, designer, and video editor. Footz, a new member of Shayvon Studios, is currently collaborating with Sonny Black, CEO of Block Pounders music. Footz Litte has an innovative eye for video editing that captures the grit and grime of the streets, and the true faces of the people. With in your face imagery and grahpics, Footz truly integrates art and reality into his productions. 
CHECK OUT THE LINKS BELOW FOR Footz Little!!!
http://twitter.com/FootzLittle

Our artist Jett Black DC has been featured on the "911 Project" spotlighting oustanding artists from DC and surrounding areas. Heading this unique project is  musicthatpays.com rep and artist "Christ". When Shayvon Studios asked Christ why Jett was considered to be a part of this project, he had nothing but great things to say: 
" This "911 Project" is 91 artists on 1 track. Jett came to mind because he has a very good reputation and always have inspirational messages. Plus, this project is featuring all local DC artist that have been on the music scene for a while now. This will give Jett Black free promotion and the opportunity to be heard worldwide through musicthatpays.com." 
Keep it locked for more updates on the "911 Project"! See CD promo along with other artists on the project below. 
BISHOPTWAN.CHAVEZ FROM TOPDOG. GUDDAH. XO. BLACK .PIMPLO. YOUNBELIEVER. FACEMOB. CHRIST & OUR OWN JETTBLACKDC
"RODNEY TUBBS"
 Recently we have had the pleasure to catch up with rapper, producer, engineer, and actor Rodney Tubbs. We discussed his music and film career thus far, and how we plans to make an impact on the music industry in the near future. Check out BIG TUBBS!
SS: Can you give us a brief description of who you are and what you do in the entertainment industry?
RT: I am a producer, engineer, rap artist, musician at heart, and I do it. I tend to pick up a lot of things to cut out the middle man, but my main thing is production. That's my first love.
SS: How long have you been apart of the entertainment industry?
RT: WOW! I have been doing this music thing since 93'. As far as music, I have been doing music since the 6th grade. I kind of fell in love with music. I have been in the industry since 1993. The first song I did was in college for Elizabeth City radio station. in 91' I hooked up with a guy who was going there for music. Him and I did our first track on the radio. Till this day they still play that song on the campus radio station, sort of like an anthem.
SS: What are some of your most memorable career highlights?
RT: I did music for Walt Williams (Houston Rockets). The cities finest. We had the first mixtape that I can remember, ever. Back in 99', that was for the hottest artist in the city. That was one of my first highlights. I did music for Bizzy Bone, Eric Sermon, my man Julian Edwards, Allen Iverson, and Marcus Camby. On film scence, I was on "The Wire" I had my own crew and did Co-op meetings for 2 seasons. The 1st season I was an extra and did prison scenes with Omar. I also did music for Julius Stackhouse. I also had a deal with the great Bernie Mac before he passed (may he rest in peace) for a move called "Dead Beat Detectives" alongside Mike Houston (Whitney Houston's brother) and Mike Mills. There are plenty more artist that I worked with, but I made the mistake of not copyrighting my my music. Songs like "No More Drama", "DC or Nothing", and "Hell Yeah".
SS: How do you plan to give back to the community, if you already haven't; if you have, what have you done?
RT: Yes, I want to give back to where I came from. I want to start a company called Save One, Save Them All, a non-profit organization. Where I grew up in S.E. DC, kids don't really have anything to do. In the inner city 5-6 blocks away, you would not want to stay in their territory. I want that to be my focal point and grow. I believe that if I save one, they will pass it on to someone else. The little bit of people that helped me get to where I am today, helped. There is no telling where I would be. They were all black men that helped me. The little that did help did a lot, and that is why I want to start my foundation.
SS: What is your main objective/ goal with your craft? How will you make your mark in this industry?
RT: My main goal is to get my music into the right hands. My main focus is to get my music out there to the people. If I get the mainstream artist to hear my music, it speaks for itself. I want to give the people real music. -- good music-- feel good music. This is the first meeting where they hear the music and see the face behind it.
 SS: If you could go back in time would you? What would you change and why?
RT: If I had to, I would change some of the people I dealt with. As far as the things I went through, I would not change anything, because I am still here. I would change my affiliations that held me back. Its like God will give you a blessing, but he won't if you are holding on to someone that he does not want to bless.
SS: What is your formula for success in the music  industry?
RT: My formula for success is my music. R.O.A.N.D Music ( round like a complete circle). I want to be the ruler of a new day, my label is the formula. I always had a production company (Ghettofied). Making feel good music, and bringing in more producers and writers. My formula is R.O.A.N.D Music. I am the CEO. No middle man, I am the BOSS!
CHECK OUT  SOME OF "BIG TUBBS" SCENCE APPEARING IN HBO's "THE WIRE" 
You can contact Rodeny Tubbs at:
https://www.facebook.com/Rodney.Tubbs" target="_blank" rel="nofollow">https://www.facebook.com/Rodney.Tubbs
http://www.twitter.com/ghettofied
email: ghettofied@gmail.com (Production/ Engineering)
roandmusic@gmail.com (Record Label)
OK rap fans and hip hop junkies, here's another bang bang banger for you to check out! Hustle Nations Enterprise own "O-Z"!!! The talented Young Rap Pheneom "O-Z" has teamed up with some of New Jersey's hottest artists on a tight collaboration with "NELLZ" & "ELO" on "NELLZ's"new hott song entitled "CALL ME 2-3"! In which numerous fans from the great "Wu-tang Clan" to "Dip Set" will enjoy!. Check out thes young rising Icons in the making. Respect & Love to our New Jersey "Hustle Nation Enterprise" family "O-Z"!
Check out NELLZ FT. ELO & O-Z | CALL ME 2-3 (OFFICIAL VIDEO)
You can also preview O-Z , / Dr.Cornell West / 2Chainz / Uncle Murder/ New Wu-Tang DVD's/ Shakesspeardark Models and much much More!
In the NEW SHAKESSPEARDARK.COM Magazine "ONE-MND-ONE-SHINE"
Click link below to view
We are very proud and pleased with our latest artist review with ChyTown's own "Letey Holday" aka "TASTEE". This Hott Top Tier artist is making alot of noise in and out of her city. Taste's uniqe flow emplements a true craft of expertise ,and her rap cadence is off the meter. This is one artist that the world will definetly see in the near future, so get ready world. We give four and half stars outta five for this rap phenom!
Check out "Tastee's" new promo "THE CURE"
For booking and inquires contact : https://www.facebook.com/messages/TRIPLETHREATTASTEE" target="_blank">http://https://www.facebook.com/messages/TRIPLETHREATTASTEE
This months artist review hightlights Washington, D.C.'s own "Roc Mikey" who has appeared on the BET awards just a couple years ago with UCB aka the Uncalled for Band. Recently Roc Mikey has launch a new group called "Roc City" which includes a host of talented musicians from all over the metropolitain area. Roc City will be featuring at Martin's Lounge on Sept. 9th 2012 come out and support the group. Also check out some of the video footage of the group, and also check out Roc Mikey's website for more infromation on this incrediable rising young artist.
ROC CITY
WATCH WEENSY of BYB SING "PRETTY GIRLZ" w/ UCB & GUCCI MANE
MORE "ROC MIKEY" AT:
http://www.mazeratimusic.net/index.php?option=com_content&view=article&id=29:roc-mikey&catid=16:roc-mikey&Itemid=27
           YOUNG BLEED
This past weekend Shayvon Studios caught up with No Limit's Young Bleed, and we were able to get a deeper look into his experiences in the entertainment industry as a southern rapper.
 Shayvon Studios (SS): Can you give me a brief description of who you are and what you do in the entertainment industry?
Young Bleed (YB): I became a part of No Limit Records and Priority Records in 1997-2002. I had a hit record called "How Ya Do Dat". Then, I joined C-Loc Records  & Concentration Camp in Baton Rouge, Louisiana.
SS: How long have you been apart of the enterainment industry?
YB: I have made it 15 years in the music industry. I got started when I was 11 years old. Music and poetry were always in my family, so I was inclined to do music, since I was 9 years old.
 
SS: What are some of your most memorable career highlights?
YB: Signing with No Limit and Priority Records in 1997. Having a hit record. Having a lot of underground records, there are a lot of beautiful moments. Yeah a lot!
 
SS: How do you plan to give back to the community, if you already haven't; if you have, what have you done?
YB: I have made a number of family and street contributions. I always do that. I am always in the streets to the suburbs, they give to me, so I have to give back. I take care of my family, so they take care of me.
 
SS: What is your main objective/ goal with your craft? How will you make your mark in this industry?
YB: I come from a parody stricken background so I like to give back to the single moms and kids in group homes, because that's where I came from. I'm turning negative into positive. Free my man Boosie. I want to make sure this rap dream comes true. I want to find a message in the music. There is always a cause and effect to everything and I just want to keep the music going.
 
SS: If you could go back in time would you? What would you change and why?
YB: In rap I wish that nothing happened to Biggie, 2Pac, Pimp C, etc. Free Boosie and all the homies locked down. As far as what God gives you, I don't regret anything. I like to just live and thank God. You might have a lot of things that happen, but that is part of life. And R.I.P Bernie Mac.
 
SS: What is your formula for success in this industry?
YB: God... Family... Business. You have to learn the business and respect God and family. You have to go back to where it came from, God 360 degrees. Get your mind on your money, and take care of yours and keep God first.
 Check out some of Young Bleeds past to present videos:
You can contact Young Bleed at:
Facebook: http://www.facebook.com/pages/Young-Bleed/82840481659
Twitter: http://www.twitter.com/RealYoungBleed
Recently the one and only "RZA" of the Legendery group "Wu-Tang Clan" has a new movie entitle "The man with the iron fist" to be released very soon. We at Shayvon Studios congratulate  the "RZA" on his on-going success! Check out a few words from RZA and the movie trailer of "The Man with the Iron fist"
Words from RZA
 Destiny has its way of being followed controlled and simply fated without our knowing. Well here is a case of a mixture of the three. When I was working on "The man with the Iron Fists" I had planned on having Tony Ja in the film. Due to schedules and other parameters it couldn't come to fruition. Yet thru our martial common thread Tony and his team invited me to Thailand to work on his new film TYG2 in 3D. And to basically join in on some serious ass kicking. I accepted and here we are together on set. Tony and I have been comrades for nearly 7 years. It's great to finally get to work together. We are both avid martial art fans and plan on doing future collaborations. If "The man with the Iron Fist" hits it's projected mark we could be seeing Tony Ja joining the cast of the sequel.
Recently Shayvon Studios has started back with our artist reiview, which we will try to bring the latest hottest unsigned artist and producers to the front line for the world to see and support. We currently connected with a Hott Band coming out of New Jersey named "X-Phaze". They are currently ranked at #9 on Reverbnation..Check out their video "Fire & Ice"
Bio: "X-Phaze is an unsigned/indie rapper and a hip-hop/rock band (band name is the same as rapper name) with styles ranging from pop and reggae all the way to electronic and dance. Their age range is from 16-18 and they reside from all over Northern New Jersey. The "X" stands as an unknown and a variable; we are the unknown, the winners of the losers bracket, and the outcasts of the incrowd. We are the variable that seems like it has no importance yet when the true meaning is discovered, it is in fact extremely powerful. The Phaze stands for the different phases we each have to encounter through our daily lives in order to give true meaning to the X. Therefore, we cannot be phased. X-Phaze has 6 members; their rapper is AJ Mahyar, the guitarist is Blake Szostak, the drummer is Alex Herbert, the bassist is Tim Henshaw, the keytarist is Denzil Chambers, and the bongo/keyboard player is Austin Ridoux. With over 250,000 views on YouTube, winning Hot 97's "Time 2 Shine" Contest, and performing at the 2012 Bamboozle Festival, they are definitely beginning to make a buzz in the indie and internet world."
Here are a few links for more on "X-Phaze"
Free Download "Rap it up" by X-Phaze
http://www.reverbnation.com/play_now/song_8388840?utm_campaign=opengraph&utm_content=song&utm_medium=link&utm_source=facebook